In 1987 EJ was granted an opportunity to begin the endeavor he had dreamed of for many years of owning his own pizzeria.
His dream started off small. He had a tiny shop located right across from the MN state fair grounds. He found a few employees, many of which are still his friends today. They had limited resources in the beginning, and they made their dough & mixed their sauce by hand. That was a chore, especially in the summer without air conditioning!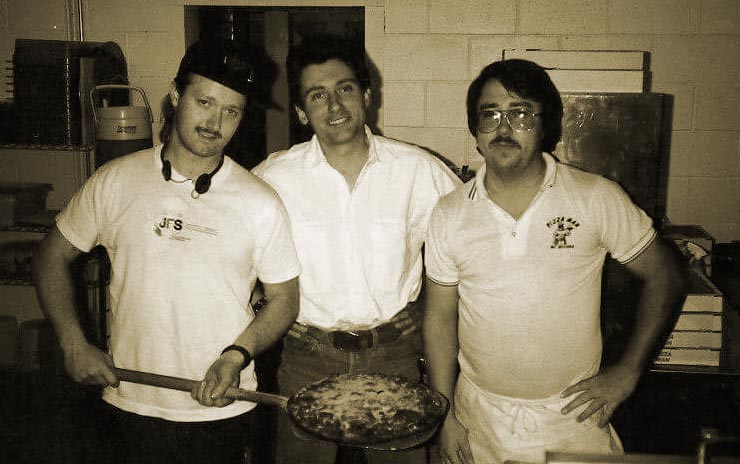 (Yes, that is EJ on the right)
EJ was given a recipe for a pizza sauce when purchasing the store, but he wasn't happy with it. He began to create his own, because he wanted his customers to have a great product. He went out into his local community doing taste tests until he heard "this is the one! Stop now!". That sauce went on to be voted top 10 in the twin cities in the early 90's.
As his little shops customer base grew, He was able to expand the location to include a back room. He was also able to buy a machine to mix the sauce & dough. Things were going so well he even added a 2nd location in South Saint Paul, MN.
In the early 2,000's he decided he wanted to take a break from the pizza industry. He tried a new adventure as a loan originator, and then moved on to be a lending executive. He enjoyed that for a few years, but pizza was in his blood.
He and his wife April began a search for another opportunity to own a pizzeria. In 2007 they happened to find their way to a nice gentleman who was selling his pizza shop in Hudson, WI. Without hesitation they bought it knowing pizza is what they wanted to do. They packed up and moved in order to live close to their business.
They went in knowing they wanted to make changes, but again were limited in their resources. The first thing they bought was a machine to mix dough & sauce. They changed the sauce, dough, and cheese. They were working toward changing the ovens, so they could change back to type of pizza EJ was accustomed to making.
Along the way an opportunity arose to change this small, individually owned pizzeria into a well known brand. They thought why not? It began as a license agreement, but changed into a franchise agreement. They remained in that brand for many years.
When the opportunity arose to remain with the brand, or become an independent pizzeria they chose independent. They knew a franchise just wasn't the way for them, and how much they loved the freedom of being independent.
Back out into the community they went. For a little over 2 months they went out into the community with blind taste testings. Each session proved they were moving in the right direction. Creating over 20 sauces, they began to test their own creations against each other in the community. There was one sauce that continuously received the highest vote in every taste session. It is the sauce that won hands down, and is the sauce of EJ's Pizzeria.
At EJ's they believe the community is very important. They would like to thank all of the community members that helped with this process! All of your honest opinions along the way helped to create EJ's Pizzeria.
The belief that community is important is also why they decided to buy their Sausage & hamburger local from RJ's. It was an easy decision, since RJ's is amazing. Small businesses, in a small community, helping each other out is the way it should be.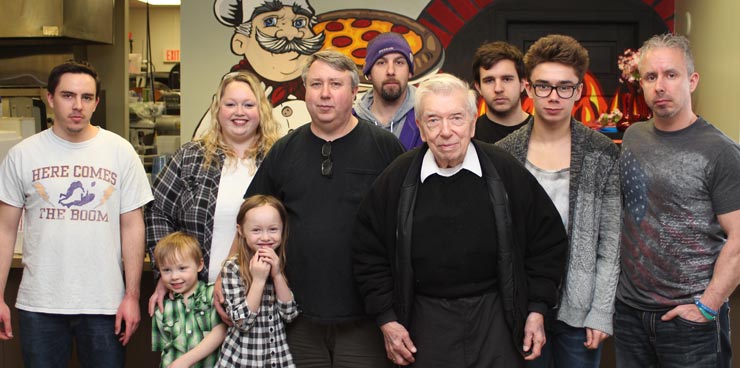 The Utech family continues the tradition of making great pizza!
EJ's is locally owned & operated by his family. He also has a great staff that works for him. EJ's serves both Quantity and Quality. They are a little hidden, so you could say they are Hudson's tastiest secret.